The ladders are stories high.
When we hit Cullite Creek, our hearts pound! The
ladders are an unbelievable twenty-five to thirty stories high here! Yes, believe it. At least they are split into chunks, with platforms set in between to allow climbers a rest. I didn't count, but I heard that the longest section is about 200 rungs. Before starting them we take a break and I notice that Erica has unknowingly covered her face in some war paint – or maybe that fall has just revved her up a notch. She's ready.
The ladders are big work, but taken a step at a time, then a platform at a time, we get down to the creek and stop for lunch and a recharge of our batteries. I decide to take my first full bath in a nice deep part of the creek. Talk about refreshing! Unfortunately none of the other rather, well, aromatic members of the group go for it.
The one team member that I haven't really spoken about is Travis, or "Shaggy" (he really does look like everyone's friend from Scooby Doo!) He is well prepared, packs the right stuff, trudges for miles and is pretty much a machine. The only thing I can write about to say more is to comment on is his rather unique and entertaining style of ladder climbing. No one climbs ladders like this guy. He either looks like a seal, flopping not so elegantly over rocks, or like he's taking a quiet little nap, dreaming about the Scooby Snacks he might be getting at the end of the day. As you can see, both have been captured on film.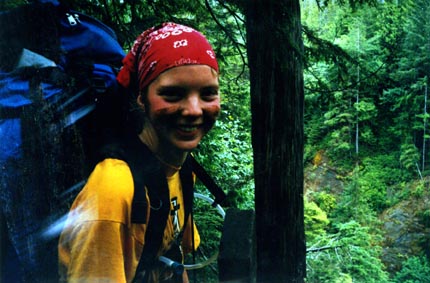 Out comes the war paint. This is getting serious.
Sleep walking?
The seal-flop technique.