We wake to the sound of rain. After lying in bed and contemplating the thought of starting our week-long adventure by getting completely soaked, we decide to hold off on getting up for as long as possible in hopes of the rain easing.
Thankfully, at about it does, so we get up and eat. I decide to have one last ďgourmetĒ meal, cooking up some sausage, eggs, and whatever else I donít want to carry onto the trail in my overloaded pack. Weíre ready to head out by and apparently Iíve been elected to be the first to carry the heavy, rain-soaked tent. Thatís funny, I donít remember getting to vote! Oh well, Iím up to the challenge. It should be a good test, since my pack is at its heaviest with a full week of supplies.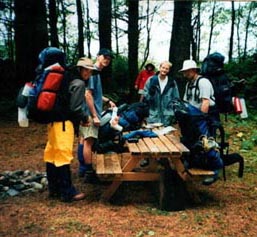 Some final packing before stepping onto the trailhead.
We head out but, to our distress, in an open field mere steps from the trailhead, what I would describe as a West Coast Monsoon hits. Our rain gear comes on and we take our first steps onto the trail. Itís not so bad in the cover of the forest and our attention is quickly captivated by the surreal look of the low-hanging fog licking out in fingers through the branches of the huge, mighty trees.
A few hours in, I take a fall off of a downward sloping boardwalk, made slick from pouring rain. I land hard, right on myÖ sleeping bag! Whew! Itís true: this trail can be unforgiving and bring your trip to an end in seconds if you arenít careful.