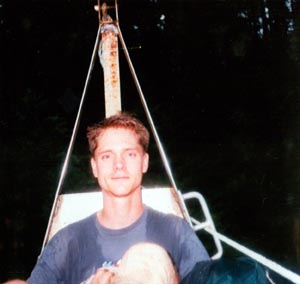 Mike looks confident as he and I load into the first car.
The cable car is a blast! We have to climb up onto a small tower that suspends the cable car 50 feet in the air over the river. Then, one person holds the car while two others get in, stuffing their packs in the space on the floor between them. Have you ever seen those little cans of oysters and noticed how they pack those babies in there? Well, this is very similar and, come to think of it, most of us even smell a little bit like oysters after our day of hard work yesterday! Anyhow, when the car is all packed up and ready to go, the spotter lets go of the cable. The weight and steadily building momentum of the packed car sends us soaring about three-quarters of the way across the water, leaving us hanging in the air over the river! We break into a little sweat pulling ourselves across the remainder of the way.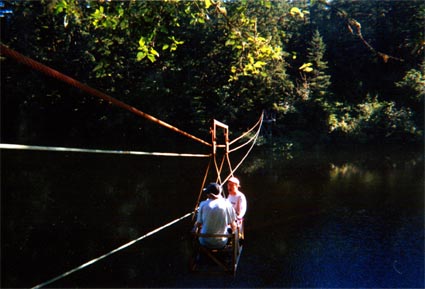 Mike and I enjoy the ride!