Immediately Dave and Conrad take up the slack in the rope and easily drag me out of the crumbling bridge. I get up and confirm that I am fine.

Greg, who is behind me, moves up to the bridge to have a look into the hole left by my foot. He says itís pure black and he canít see much. This likely means it is deep. He nervously pokes at the remaining bridge a bit, trying to convince himself that the hole into oblivion beside really isn't that bad. But he decides to back up and take a run at it so he can jump clearly over the bridge. He makes a big leap and clears the crack with Ben following successfully as well.

We move on and in a few minutes are close to the glacier toe where we remove the rope and move onto the rock for the traverse. We rappel down the 5.2 pitch and then stop for a half-hour while Conrad puts in a belay bolt on a tricky section lower down for future parties. From there it is smooth sailing back to camp.

Once again, weíve made it back just in time for our dinner of mushroom soup, chinese salad, oven-roasted turkey, dressing, mashed potatoes, gravy, carrots and cauliflower, and pumpkin pie with whipped cream for dessert.
Wow.

After dinner, I ask about Rock School. Zac says maybe theyíll do it Friday. I mention that it has been quite a few days of tripping and that I bet a lot of people are ready for an easier day Ė maybe tomorrow would be a good day for it. He responds that the trips for tomorrow have already been chosen, so itís not going to happen.

He pauses.

He must have thought it over, because he says, ďHang on, letís see.Ē
Everyone is still in the dining tent so he asks who would be interested in a Rock School tomorrow.
I hope for at least eight hands from the people who have signed up on my list. To my relief, about ten hands go up!

That is enough, and Zac says heíll reorganize the trips and post Rock School for tomorrow.

When the sheets go up, options are Rock School, Alexandra (for those jealous of us today!) and the Whiterose Traverse.
Everyone taking in a well-deserved dinner.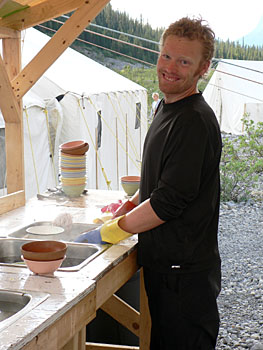 Ben washing dishes. I think he's happy because he's doing well in his quest to be the one who eats the most in camp.
Oh, my, it looks as if somebody's tent has exploded.