I wake up to overcast skies and light rain. It looks like my choice of Snow School is a good one.

We begin about 9am after some breakfast. For the first half of the course we all huddle inside of the cover of the dining tent. Cyril leads a discussion on crevasse rescue with the help of Nancy and Simon. He says that, rain or shine, we'll have to get out on the glacier in the afternoon.

So after some lunch out we go. The rain is off or, at most, light as we begin our trod up the moraine to the glacier covering the flanks below the cloud-blanketed Whiterose Mountain.

Once there, Simon gives us a demonstration of how to make a T-slot snow anchor. We all then get to make our own. Cyril then shows us proper placement of an ice screw and we practice that as well. Next up, we rope into teams and practice our skills moving together on the glacier, with me on Nancy's rope. The afternoon finishes with Cyril going over four scenarios of self-arrest and us practicing all of them. He offers a fifth scenario, but mentions that us practicing it is completely optional.

Hmmm... why?

I listen and look on intently.

He faces us looking up the mountain and then suddenly falls backwards, doing cartwheels down the slope. Once an appropriate number have been completed, he plants his axe and comes to a stop in a flurry of flying snow and ice.

Everyone looks at each other. Surprisingly, no one opts to practice this one for themselves.

Later, on the dinner menu is cream of vegetable soup, followed by coleslaw, rice and oven roasted chicken drumsticks.

Trip options for tomorrow are: Osprey, Spring Rice, Rosepetal, and Fried Rice/Fool's Gold.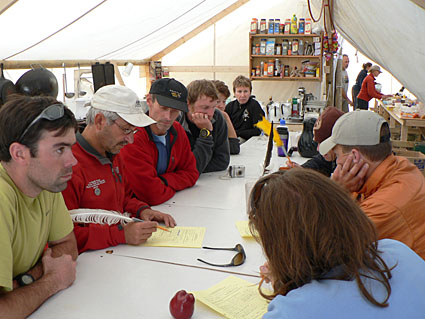 The guides discuss tomorrow's trips and prepare the sign-up sheets. I wonder if the quill pens help in the decision making process?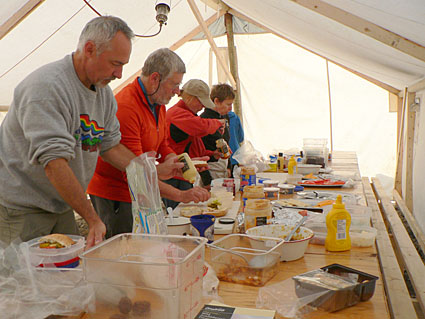 Camp participants make their lunches in the dining tent... normally it was much more chaotic than this, with 30 people diving across the table to get the last Oreo or Dad's Cookie.