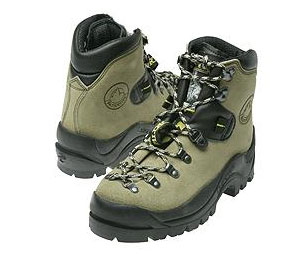 Rating:
The Good: tough, durable, well-made, good lacing system.
The Not-So-Good: need to be waterproofed regularly.
I was forced to use these pretty much right out of the box with only a few hours of break-in by wearing them around the house. I was really nervous because the trip I was doing was an 11-hour summit assault on Mt. Joffre that comes packaged with a 6-hour approach. On a trip like this, my previous boots would have left me with some blisters, even though they were well broken in - thus my nervousness with using these out of the box! The Makalus only gave me a slight blister on my left heel... I'm not even complaining, because it was really nothing considering the size of the trip with no break in time... in fact, I think it's astounding.

I've heard a lot of horror stories about these boots giving blisters and having a long break in time, but as long as the last - the model foot upon which the boot was built - is similar to your foot, then I honestly think that if you get the correct SIZE, you'll be fine. I'm not a 'professional' on boot fitting, but let me say that even though my previous pair of boots seemed to be a touch on the small side, I still had some heel lifting, but the salesman said that was normal for such a stiff mountaineering boot - and so I suffered through years of blistering because of it. When trying on boots, try on many brands and you'll notice that some just seem to fit better than others; this is because the last upon which it was built is more similar to your foot than others. While shopping, I tired on more than a dozen different models of boots and I knew from the moment I put them on that the Makalus were build for me - they fit like a glove! They didn't allow my heel to lift, nor did my toes touch the front of the boot when tested on a decline board in the store. I had to try a 40, a 40.5 and a 41 to find out that the 40.5 was the best fit. So, make sure you buy from a store that has the stock to let you try enough sizes that you're sure you've got the right fit. Just my two cents, now back to the Makalu specifics...

These boots are fairly stiff, but I like that feel of stability while I'm carrying a heavy pack and also when I'm scrambling and have my toe placed on a tiny ledge and need the support. They're also solid on scree and perform well with crampons on ice and snow. I've used them for backpacking, scrambling, and summer alpine climbing. The lacing system is cool, with the locking bottom eyelets which allow a different level of tightening on the upper and lower eyelets. Keep in mind that they are leather so, as with any leather boot, it's important to regularly treat them to keep them waterproofed.
I went 69 trips before I needed to resole them. I've done about a dozen trips with the new soles, but can now see various points of wear on the uppers that signals their end of life is near. But I think the number of trips done with them is quite amazing and is a sign of the superior quality and manufacturing the folks a La Sportiva do.
Definitely recommended.