On a hot and sunny day in June 2007, we headed out to Golden, British Columbia to do some whitewater rafting on the Kicking Horse River with the Glacier Raft Company.
The day began at company headquarters where we were fitted with wetsuits, booties and splash tops. We were told to come prepared with our own pair of sandals/old running shoes and a fleece/warm sweater, but they thoughtfully had extras on hand for anyone who happened to forget their own.
Once we were all suited up, we boarded their bus for the 25-minute drive up the canyon to the put-in area. During the trip, Isaac, one of the guides, gave us some initial instruction on the proper use of our lifejackets and use of the paddles. He also pointed out some interesting scenic things – sprinkling in plenty of good humor along the way to keep us loose for the upcoming adventure. That was much appreciated as none of us had ever done whitewater before and were a bit nervous about it all!
At the put-in area, we got off the bus and gathered around the rafts for some further instruction. Ryan, the guide for our boat of eight, went through all of the commands that he would be shouting - or screaming during the wildest sections - to us throughout the trip, as well as precisely what to do if you fell off the boat.
The spot they picked for launching was good as it was a calm area where could practice everything they had just taught us. This allowed our team of eight to develop some cohesiveness and get comfortable with each other and the boat. We practiced paddling forward and backward, diving left and right for if the boat happened to rise up on one side, and most importantly how to hang on to the secure ropes down the center and sides of the boat for when things got really crazy!
We then continued our easy float down the first part of the river. There was one other boat in addition to ours – they run as many as eight during the holiday season. We also had a third boat with us containing some guides who were doing some training.
Soon enough, we hit our first whitewater turbulence in what they call the S-Bends and Cable Car Rapids. They got the blood pumping a little bit, but then we saw our first set of Class III rapids ahead – Hopi's Hole. Normally these aren't too wild, but with it being early season, a very high snow pack, and the previous few days being blazing hot, the river was running at its highest, biggest, and perhaps wildest of the year. Nothing like great timing for us!
Ryan barked out for us to paddle hard because we wanted to hit the hole hard and straight on. With our eyes wide, we did as commanded and pushed hard, and before we knew it we were sliding down into the hole only to look up with mouths open in awe at the giant wall of water towering in front of us on the hole's other side. In a split second the front of the raft skyrocketed up high as we hit the towering wall in front of us and the giant wave of water washed over the entire boat. It was pretty shocking, but we regained our orientation and soon let out with a bunch of "Yahoo's". We'd made it!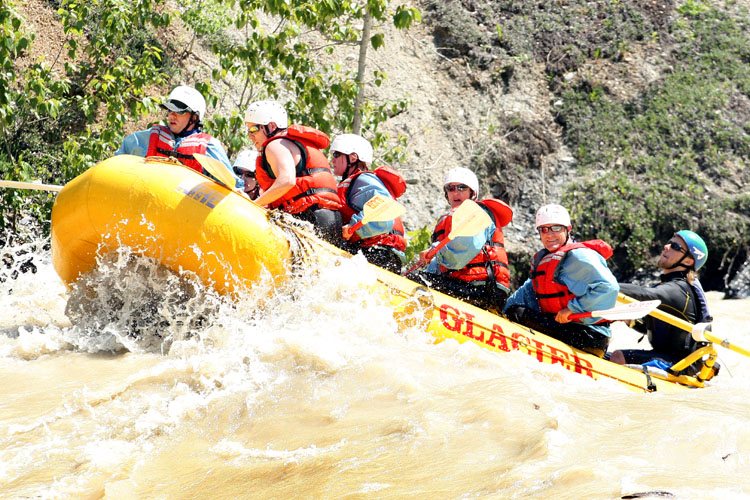 Ryan turned to take a look back and shouted to us that the other boat had flipped! It was quite impressive to see the other boat's guide, Isaac, spring into action. Within seconds he had hauled himself back onto the overturned raft and begun to haul people back aboard out from the churning water. Ryan and the boat with the other guides threw in some rescue lines for people still in the water to grab hold of. It all happened so quickly, but in the space of a minute or so, everyone was laying back atop of the overturned raft as it continued to float down the river. We paddled hard to pull up beside them and extend one of our paddles to Isaac who used it to guide the raft to shore.
Although it only happens a few times per season, flipping the raft sometimes happens no matter how experienced the guide and how well the crew performs – you're throwing yourself into nature's strong arms and she'll sometimes have her way with you. But this is also part of the adventure, and adventure is why you sign up for something like this. The key is that you have guides who know how to quickly and decisively react in order to efficiently recover when the stuff hits the fan.
And in this case, it was an awesome sight to witness the recovery. Isaac, with the help of the other guides, seemed like a well-tuned machine that simply kicked into action to get things back on track. As can be imagined, it seemed like quite a bit of commotion to us first-timers, but Ryan never hesitated in telling everyone in our boat exactly what he wanted us to being doing during those couple of minutes, and it felt like we really helped out as a team even though we were simply following his lead.
With that behind us, and the other raft back together, it was only five minutes to where we stopped for a great lunch of BBQ'd steak (or fish or veggie patties) and pasta salad along with a table of fresh veggies, cheese, crackers, potato chips, and dip. There was also hot water for drinks and cup-o-soup.
Once fed and watered, we got back in the rafts and made our way down to the next big section, which had some bigger Class IV rapids and features with names like The Terminator and Table Saw. The guides pulled us ashore just before them and walked us down the river to where we could get a good view of everything. They drew out a plan as to exactly what route we wanted to take through it all. It was pretty cool because even though it looked pretty wild out there, we got to see it ahead of time it gave us the confidence that we knew what to expect and how we were going to handle it as a team.
Back in the boats, we had quite a wild ride as we paddled hard to position ourselves on the ramp just right of the Terminator, then went hard through the Shogun and glided just left of the Table Saw so it didn't buzz right though our boat! We had done it!
We coasted down for some final Class III through the Roller Coaster and a few other sections before a final bit of calm water which allowed us to unwind from it all before arriving at the take out point. From there we boarded the bus back to town where they had some cold victory beverages waiting for us.
The only disappointment of the day was that we couldn't run the rapids in the lower canyon. This can be the best section, but the water was simply too high. The bonus, however, was that the section that we did do was unusually outrageous, so I left feeling that the trip was still well worth it. Of course this was all completely out of Glacier's control and their decision to not allow the lower canyon shows their dedication to safety over making more money. So, the lesson learned is that if you do wish to do the lower canyon, be sure to give them a call ahead of your trip date to check conditions.
I guess for me it simply means that I have to make a return trip very soon to finish that section!
All in all it was a fantastic day full of excitement. These guys have been in operation for 25 years and it really shows. Everything from beginning to end was exceptionally well organized. I felt Ryan, Isaac, and the other guides were top-notch and I certainly felt like I got to see them use their training at full power out there. I always felt safe and knew exactly what I should be doing.
They even have a photographer who takes some great action shots of you on the craziest parts of the river for you to buy after the trip.
What a great experience!
If my review sways you to go rafting with Glacier, please come back to this page and add any comments you have in the section below to help other future readers - thanks.