Although I don't have any photos of our climb, I wanted to write a little bit of a trip report on Gray Waves since it was my first multi-pitch sport route. Ooooo… the excitement!

Vera and I left the parking lot and walked the 40 minutes past the landfill to see a group of three and a group of two in the distance all jumbled up around the first pitch of the route on Kid Goat's face. When we got to the base, I hollered up to one fellow and he told me that the other group was traversing over to the Keelhaul wall. So, only one rope would be climbing above us. I hollered that we'd be climbing below them, hoping they'd take the hint to have mercy on us and go easy on the rockfall.

Vera started up the first pitch, taking the lead. It took quite some time as the bolts were not all that easy to see and she was a little nervous about leading. We'd both lead 5.9 single pitch sport routes, but the thought of five pitches above us was somewhat daunting. She took her time, managing to stifle several near outbursts of unpleasant commentary quite well. Once she got to the top I began up and quickly understood her pace and under the breath mumbling – the climb didn't begin easily. Although the rock was good, it was steep and there were some overhangs and roofs to contend with. I hadn't climbed for about a month, but it certainly seemed challenging for its 5.8 rating.

Nonetheless, I made it up the first pitch a little with a bit of sweat. Vera continued leading up the second pitch which was similar in difficulty to the first. There was audible whizzing as several small rocks went by at sonic speeds. It was likely rockfall from the group above. I was belaying from the sheltered safety of a roof and couldn't see Vera, but I felt the rope pull and then go slack several times. I suspected this meant more roofs above to overcome. Before long, Vera was up and I began the second pitch. My feeling was that it was easily 5.9ish, and a couple of athletic moves required to get up and over a roof seemed to push into a 5.10. Near the top of the second pitch I noticed the bolts for a belay station, but Vera was belaying me from higher. It turned out that she had skipped it and pressed on to the third station in one push.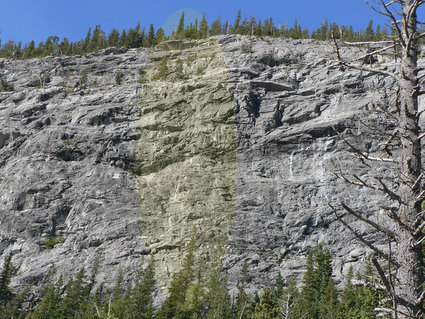 The route ascends in the face in the yellowish tinted area.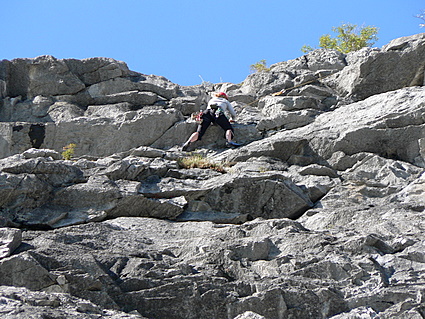 A climber ahead struggles with an overhang on the lower part of the climb.