THE SEXES with MEL RISDON
Midlife crisis comes early
by Mel Risdon
A crushing pressure to succeed. The relentless ticking of the biological clock. And so many questions: Do I buy these shoes — or buy a house? Save for education — or retirement?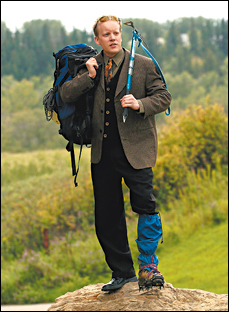 ROCK ON ... Parry Loeffler spends more time in his climbing hobby these days.

— Kevin Udahl, Calgary Sun
You're experiencing a mid-life crisis at the ripe old age of 30. Baby boomers may snicker, but it's a very real (and growing) problem with the generation still in junior high when the hit series Thirtysomething first aired.
More like the gang from Friends, today's thirtysomethings — and this weekend, I join them — are often plagued by worry over education, career, family, health, financial stability, global warming, terrorism and just about everything else under the sun.
Richard Baer, now 33, hit that proverbial wall a year ago.
The financial planner from Whiterock, B.C., earned a six-figure income and was, by most standards a success. But something still nagged at him.
"I just felt like I was living in a bubble," he said.
"I didn't want to be one of those guys that 25 years later they're still working in a bank. One day my wife and I were telling each other about our dream jobs. Mine was to work for Harley Davidson."
With the help of a friend, Baer ventured east to Calgary and there the banker turned biker. He took a position with Harley-Davidson Canada as the district manager for Western Canada.
"I'm not allowed to wear a suit now," Baer joked. "It's all Harley-Davidson clothing — leather jacket, Harley boots and jeans.
"If you asked me today if I'd go back, I'd say no."
Public relations practitioner Alison Pidskalny, too, came to a crossroads recently. After 14 years in her industry, the 30-year-old felt she needed a change. So she quit her job earlier this year with a major Calgary PR firm.
"It wasn't like a vacation," Pidskalny admitted. "I was pretty focused. It was like a six-week job to figure out what I wanted to do. What I discovered going through this kind of search is that when one door closes, another one automatically opens and it was so interesting to see that play out."
She also discovered she needed to be part of something meaningful. "I want to make a difference," she said. Today, she's the director of resource development for the Centre for Affordable Water and Sanitation Technology.
Why does Alison believe that people are coming to this point in their 30s rather than later in life? "I think people in this generation are trying to redefine what work means to them personally."
At 33, Parry Loeffler shut his successful consulting business, grabbed his backpack and was off to explore South East Asia for six months (his book Rice Crust from the Bottom of the Pot, (89 Degree Press) is based on those travels).
He too changed his way of life in search of the path to contentment. "Society says that more is better and it will equal a more fulfilling and happier life," Loeffler said. "You work hard to pursue these things, but once you get them, the novelty wears off and you're left feeling unfulfilled and looking for what's next."
After his sabbatical, Loeffler returned to his consulting business with a refreshed attitude and very different outlook on life. He now works on a much smaller scale and has begun to pursue his passion for writing.
"What it comes down to for me — happiness and fulfillment in life are truly measured by what you are outside of your work life. I'd rather be able to say I've hiked here, or volunteered there, or coached this."
Authors Kerry Rubin and Lia Macko put it another way: "Where-has-the-time-gone has turned into where-is-the-time-going."
In Midlife Crisis at 30: How the Stakes Have Changed for a New Generation — And What To Do About It (Rodale, 2004), the pair cite the societal changes that have occurred in recent decades, from the rise of the Internet to women marrying much later in life — if they get married at all.
"There's a lot of confusion around the gap between good intentions and the realities of life," Rubin said in a phone interview. All these big decisions in life used to be played out over many decades. But now we are working on a much more compressed scale."
For both men and women, the pressure has increased to do/accomplish/acquire more, all before you actually hit 40.
It's a crisis according to Macko. "If you look up the definition of crisis in the dictionary, you'll find it refers to a turning point."
2004-09-03