Coinsquare Referral Code for 2020
and Account Opening guide
*All $20 bonus codes you see elsewhere are INVALID - Coinsquare has ended that promotion 2018 Dec 12.
But Coinberry.com is offering a $20 bonus for my readers willing to give their platform a try. Details: $20 Coinberry offer
Otherwise...
What is the most valuable coinsquare referral offer now?
You can use our VERIFIED COINSQUARE REFERRAL CODE to receive $10 WORTH OF BITCOIN (BTC) after you verify and fund your account with a minimum amount of $100 in fiat.
3 Steps to Activate the Coinsquare Referral Code:
On the Coinsquare sign up page, paste in our Referral Code:

5XSSV

or simply use this link to open the Coinsquare signup page with the code entered for you.
Complete the account registration process (if you have problems, remember to check our guide below), make a minimum deposit of $100 fiat (no bonus will be paid if the deposit is a cryptocurrency), and get your $10 worth of Bitcoin (BTC) bonus!
This last step is for us - to help us spread the word of this offer please share our page on social media! You can use our handy share buttons on the left of the screen.
* Securing your own referral code offer with our 2020 Coinsquare referral code only takes 5 minutes - the rest can be done later. Get one now while still offered! *
---
account opening guide
Step 1 of Coinsquare sign up: Registration
In this first step you choose a username, specify the email address to be connected to your account, choose a password, and verify that our Referral Code: 5XSSV is entered correctly into the Referral Code box. You MUST enter the code correctly, so if you want to be sure simply use the button below and you'll see that it automatically enters the code for you in a new browser tab.
Once this is all done, read the terms and conditions and check the box to agree and also check the "I'm not a robot" box to prove that you're a real person! Then click Register to move on.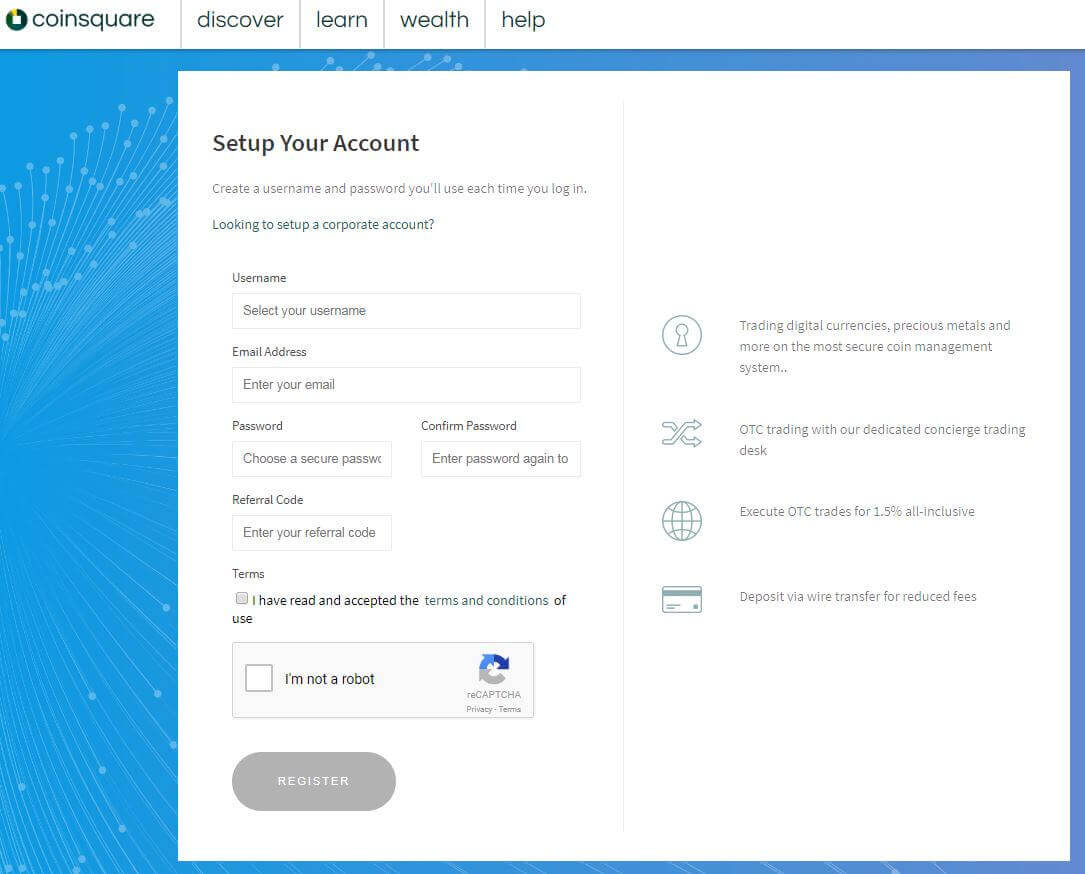 Step 2 of Coinsquare sign up: Verification
In this next step you will verify that "you are who you say you are." Click Begin... to begin!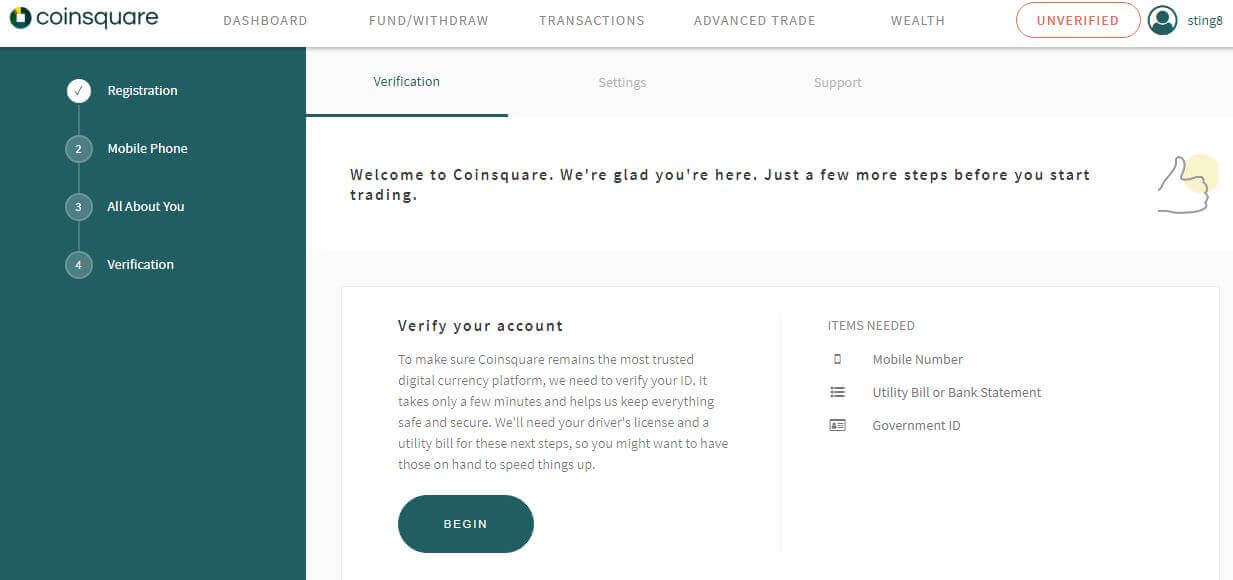 As shown in the next screenshot, you will see a blue bar at the top indicating that they have sent you an email to the address you specified in the previous step. You can see what the message looks like below. Go have a look for it in your inbox and press the Confirm Email Address button in the email.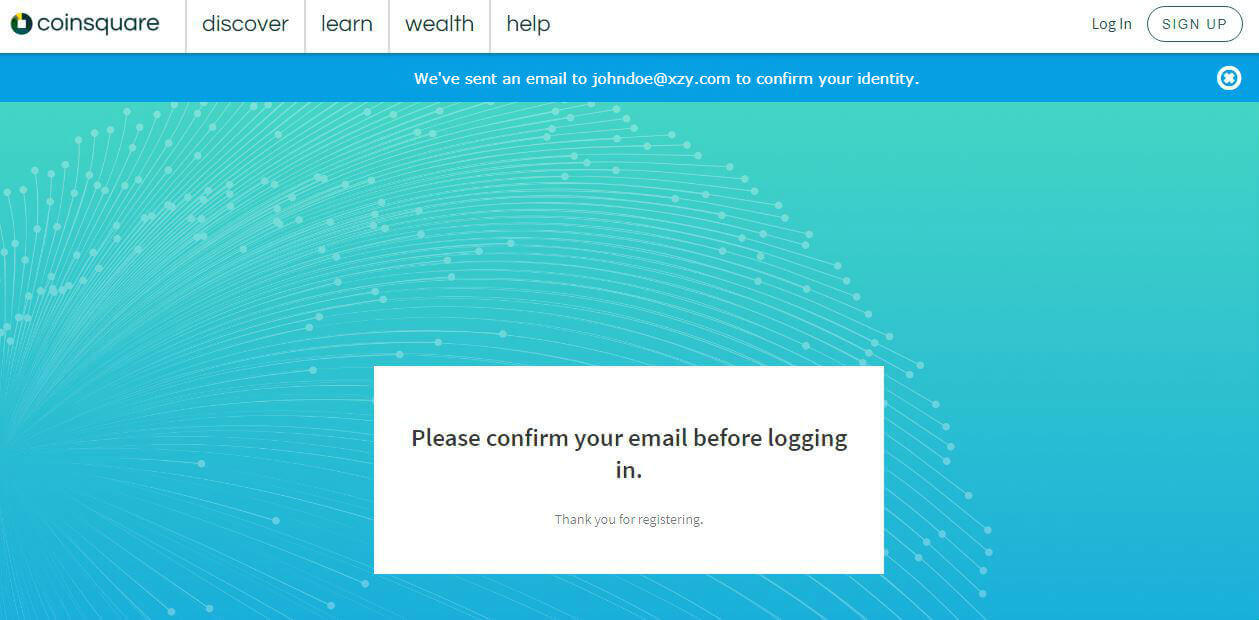 Step 3 of Coinsquare sign up: Mobile Phone Authentication (and a way to avoid giving out your phone number)
In this step you'll enter your mobile phone number and press the Text Me button so that they can send you a text message containing another verification code. You may be hesitant to give out your phone number; I definitely understand that! If you don't mind giving your number, then skip the next section and move on.
If you don't want to give out your phone number, you can use a generic number from a free texting service. For example, you can go to a site like SMS Receive Free. As shown below, you'll see a list of numbers for different areas in Canada. Find the one that is closest to your location. This is the number to provide to Coinsquare in the next step.
OK, so whether you're using a generic phone number or using your phone number, enter it on the Coinsquare website and then click the Text Me button.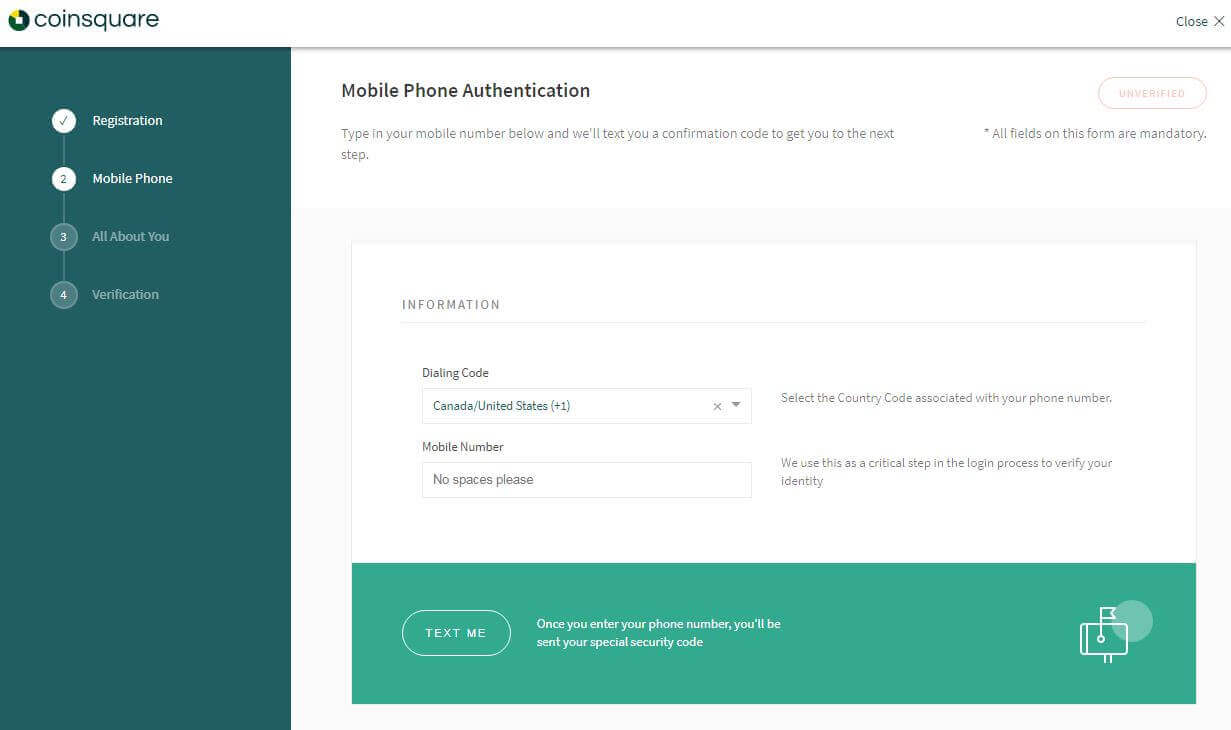 Check your mobile phone for the text, which should come quite quickly, or if you used the temporary SMS Receive Free number, go back to that website to the page of all the available numbers and click on the one that you provided to Coinsquare. You will then see a list of text messages received by that number and how long ago they were received, as shown below. You'll see a long list from all the other people that have had information texted to the number, but you're looking for the most recent entry from within a few minutes, which should be yours. If there isn't yet a recent one from within the past few minutes, maybe Coinsquare hasn't yet sent it, so wait a few minutes. It shouldn't take more than a few. It won't say it's from Coinsquare, but will just say something like "Your verification code is 1234." This number is the code that you'll use in the next step!
Once you get the text enter the code into the Verification Code box at the bottom of the screen and press the Save and Continue button.
Step 4 of Coinsquare sign up: All About You
In this final step you confirm your name and address and choose a security question/answer in case you ever forget your password and need to recover your account. Check the consent box and press Save and Continue.
You will now see that you are finished creating your account! Congratulations! You can move on to funding your account, sharing your own personal referral code, or take a break and do that another time.
Are You Ready?
OK, so if you've just been reading along and have not yet begun creating your account to reserve personal Referral Code - now is the time!
You can click below and use our referral code to claim your own personal referral code: 5XSSV
Use the button above or click here to go to the Coinsquare website have the referral code automatically entered
* Securing your referral code offer with our 2020 Coinsquare referral code only takes 5 minutes - the rest can be done later. Get one now while still available! *
---
Withdrawing Funds From Coinsquare
I have read some reports on the internet about people feeling anxious when attempting to withdraw funds from Coinsquare, as it is often not immediate.
I was successful with a direct deposit to my local chequing account at one of the Big 5 banks.
I put in a request to direct deposit a few hundred dollars CAD into my main chequing account. The money was made unavailable in my Coinsquare account right away and appeared in my bank account five days later. So while it was somewhat unnerving to have the money seemingly in limbo during that period, it all sorted out and the transaction was completed well within the nine-day window they suggest it could take. Hopefully this will ease some of the anxiety others may experience if they try it.
---
Coinsquare News
March 8, 2020: Coinsquare has announced: "In honour of International Women's Day, Coinsquare will be donating 50% of all trading fee revenue generated between March 9th - March 15 to the Canadian Women's Foundation. We support their mission of empowering women and girls to move themselves out of violence and poverty, into confidence and leadership."
January 28, 2020: Today, Coinsquare CEO Cole Diamond was awarded Technopreneur of the Year for 2019 at the CanadianSME National Business Awards. These awards recognize and put the spotlight on the contributions of business people within Canada's economy.
November 6, 2019: Coinsquare has now enabled live chat on their website. I've always appreciated when companies have this function on their site as it allows prompt answers to questions that are simple. In a tweet, Coinsquare said: "We are thrilled to announce the launch of our live chat feature on http://coinsquare.com and our support site. Users will have the ability to directly speak to a Client Success Representative between 10 am - 5 pm. We are here to help improve your experience on our platform!"
August 15, 2019: CEO Cole Diamond talks on regulations for the industry and Bitcoin SV.
August 13, 2019: Coinsquare and Flexa have teamed up to bring Flexa's SPEDN wallet and the in-store cryto payment option to Canada. Coinsquare commented that "One of the biggest hurdles in mass adoption for crypto is finding a way to let users spend it. We are excited to bring Flexa's solution for this problem to Canada."
August 8, 2019: Coinsquare published an article on their approach to security and regulations, touching on cold storage, accounting checks, relationships with banks and regulators. Read it here.
July 15, 2019: Coinsquare announced they are the official Title Sponsor for the Blockchain Futurist Conference in Toronto this coming August. It's the largest blockchain event in Canada with booths, over 100 speakers and more than 2,300 attendees from around the globe gathered to discuss the future of blockchain technologies.
July 3, 2019: Coinsquare has made a investment in Just Cash, a software provider of code that envisions enabling ATMs around the globe to process cryptocurrency transactions via debit cards without any modification other than a routine software upgrade. "Right now, there is a lack of mainstream cryptocurrency adoption because most people are intimidated by the process to acquire it," says Cole Diamond, CEO of Coinsquare. "By using the millions of existing ATMs around the world, we can now bridge the gap and give new users the easiest and most familiar experience to purchase cryptocurrency. Bitcoin is new and unfamiliar to many, but ATMs are not. By tapping into the existing global ATM network, cryptocurrency can finally reach the masses. We are bringing that familiar and trusted process into the cryptocurrency world, and vice versa, for the first time."
May 29, 2019: Bitcoin price is up over 60% in the month to today.
April 25, 2019: Stellar XLM (Stellar Lumens) has been added to the coin offerings. This coin is from the global payment system Stellar which is known for enabling the transfer of funds instantly around the globe.
April 4, 2019: Coinsquare announces the launch of eCADTM which is going to be the first stablecoin pegged to the Canadian dollar. Says Cole Diamond, CEO of Coinsquare, "The launch of eCADTM will create the first transparent, affordable, and secure way of transferring value in Canada and beyond, without the risk of instability in the traditional cryptocurrency market."
August 22, 2018: Coinsquare is offering fee-free account funding using e-transfers for verified account holders for a for a limited time! Check out the detailed here.
August 1, 2018: XRP is now live in beta mode on Coinsquare's platform. While in this beta phase, you can fund your account with XRP, buy XRP with fiat or cryptocurrency and trade XRP for fiat or other cryptocurrencies, but cannot directly withdraw XRP. In order to withdraw that value, you have to exchange it to BTC, ETH, or fiat first, then withdraw.
June 25, 2018: Coinsquare has released an important alert: "An organization has been pretending to be a Coinsquare research affiliate, asking for personal information in exchange for a PayPal payment to your Coinsquare account. This is a phishing scam. If you have any concerns, please email support@coinsquare.io"
June 19, 2018: Continuing on their thread of new account offerings as of late, Coinsquare has now announced support for Corporate accounts which seem to intertwine with the new "Wealth" service. They say, "Invest on behalf of your business and take advantage of corporate taxation rates with Coinsquare Wealth. Enjoy perks and benefits of a Wealth customer for free. Opening a corporate account is quick and easy. Take advantage of faster funding and withdrawal options. You can now fund your Coinsquare corporate account with USD as well."
June 13, 2018: Coinsquare has launched a new "Wealth" service promoting it as a "premium service for Canadian investors who are serious about digital currency." They say the service offers dedicated account management, lower wire fees, faster funding/withdrawals, live access to the OTC trading desk, and access to exclusive events.
May 31, 2018: Coinsquare has released a new video explaining why you shouldn't be frustrated if you can't afford to buy an entire bitcoin.
May 3, 2018: Coinsquare's Advanced Trade function was somewhat unclear previously. They have now made some changes to make it more intuitive to use: "We've heard your feedback, and we've made the first of many upcoming improvements to the Advanced Trade feature on our Web platform. The most important change is that Buy and Sell orders will now be executed relative to the first currency of a pair. For example, if you select the BTC/CAD pairing - BTC (Bitcoin) will be the currency you are either buying or selling using funds from the second currency in the pair. So now when you select BUY, you are buying Bitcoin with Canadian dollars. When you select SELL you are selling Bitcoin into Canadian dollars. The best part is you no longer need to do a math equation to figure out the amount you are setting your orders for. All of the customers we asked, feel this is more intuitive and we hope you agree," says Coinsquare.
May 1, 2018: Coinsquare has added a trio of new video commercials to its latest advertising push. These ones are shorter 15-second clips following along the same theme as the initial one from early April.
April 11, 2018: Coinsquare has released a video advertisement. Update: it seems to be getting a fair amount of air time. I 've seen it regularly during hockey playoff games.
April 9, 2018: It seems that Coinsquare has rebranded their website just recently. As a result, the colours shown in some of my screen captures of the account opening process may not be accurate, however I believe that the process itself remains unchanged. Also, they have increased the funding amount required for the $20 referral code offer from $60 to $100.
Are You Ready?
If you're ready to take the bull by the horns, be sure to take advantage of the Coinsquare Referral Code Bonus offer while it lasts!
You can click below and use our referral code to claim your own personal referral code: 5XSSV