Bitbuy Referral Code for 2020
and Account Opening Review
Do other Bitbuy codes actually work? Who knows.
Ours does. Period.
You can use our VERIFIED BITBUY REFERRAL CODE for a $20 bonus when opening a new account - not bad for a few seconds effort!
3 Steps to Activate the Bitbuy Referral Code:
On the Bitbuy sign up page, paste in our Referral Code:

4UTKLRUZI

or simply use this link to open the Bitbuy signup page with the code entered for you.
Complete the account registration process (if you have problems, remember to check our guide below), make a buy of at least $100, and get your bonus!
This last step is for us - to help us spread the word of this offer please share our page on social media! You can use our handy share buttons on the left of the screen.
* Securing your own referral code offer with our 2020 Bitbuy referral code only takes 5 minutes - the rest can be done later. Get one now while still offered! *
This page was originally to help my fellow Canadian Digital Nomads travelling abroad, but word-of-mouth seems to have expanded it's reach. That's OK, it's open to all and I'm sure the folks at Bitbuy appreciate the business!
account opening guide
Step 1 of Bitbuy sign up: Registration
In this first step you specify the email address to be connected to your account, choose a password, and verify that our Referral Code: 4UTKLRUZI is entered correctly into the Referral Code box. You MUST enter the code correctly, so if you want to be sure simply use the button below and you'll see that it automatically enters the code for you in a new browser tab.
Once this is all done, check the "I'm not a robot" box to prove that you're a real person! Then click Sign Up to move on.
Step 2 of Bitbuy sign up: Verification
In this next step you will verify that "you are who you say you are." As shown in the next screenshot, you will see that they have sent you an email to the address you specified in the previous step.
You can see what the message looks like below. Go have a look for it in your inbox - or, heaven forbid, your Spam - and press the 'Verify My Email' button.
It'll then show you that you can sign in.

Step 3 of Bitbuy sign up: Mobile Phone Authentication
In this step you'll enter your mobile phone number so that they can send you a text message containing another verification code. Check your mobile phone for the text, which should come quite quickly. Once you get the text enter the code into the verification code box.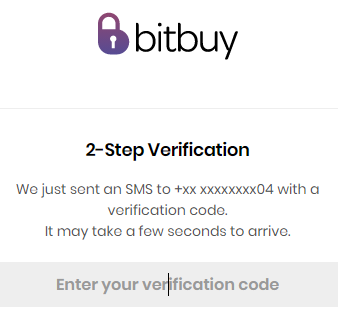 Step 4 of Bitbuy sign up: All About You
In this final step you confirm your name, birthdate, occupation, and address. You also need to specify whether you're politically exposed or the head of an international organization and agree to a Trulioo identity verification.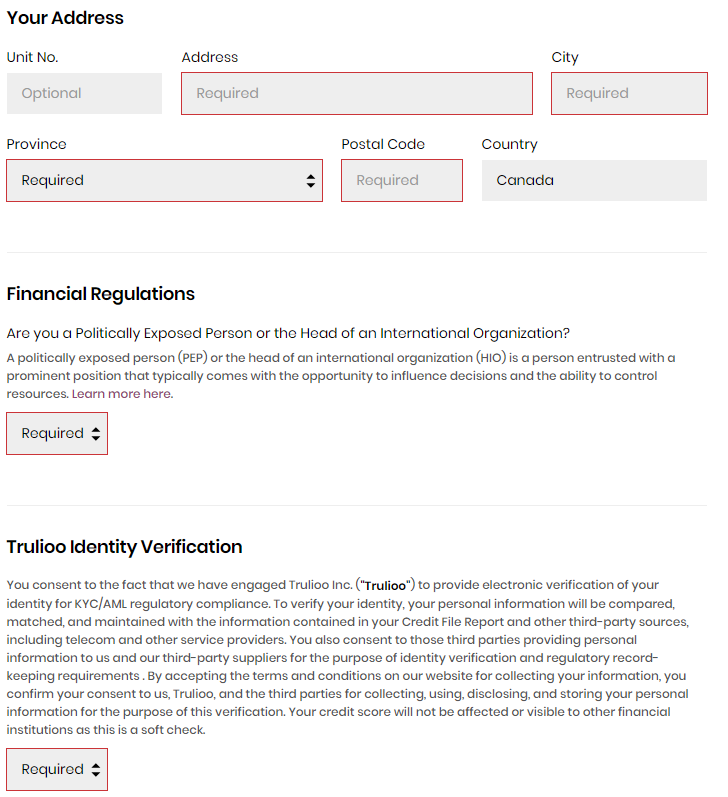 You may see that they were unable to verify your identity. This happened to me, but I simply reached out to them with an email and they looked into what happened and it was quickly resolved (I needed to use a different phone number.)
If all goes well, you will now see that you are finished creating your account! Congratulations! You can move on to funding your account with at least $100 or take a break and do that another time. Remember you won't get your bonus until you do that and make a $100 buy.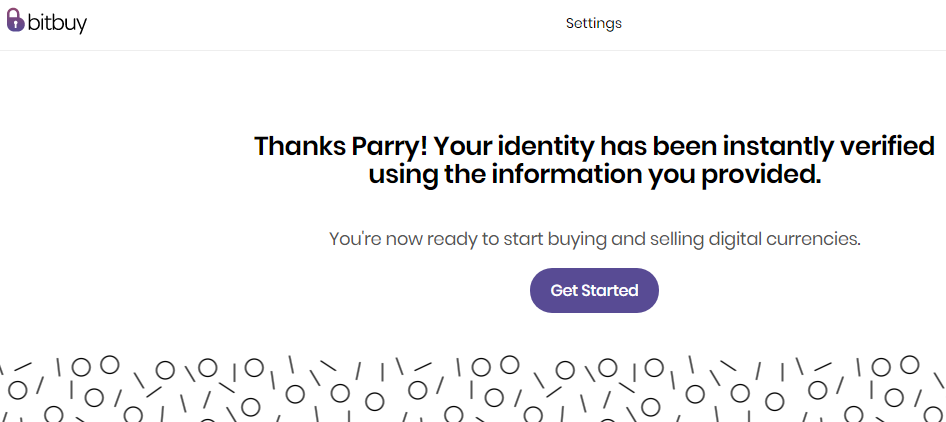 Are You Ready?
OK, so if you've just been reading along and have not yet begun creating your account, now is the time!
You can click below to use our referral code or just copy it: 4UTKLRUZI
Use the button above or click here to go to the Bitbuy website have the referral code automatically entered
* Securing your referral code offer with our 2020 Bitbuy referral code only takes 5 minutes - the rest can be done later. Get one now while still available! *
---
Bitbuy News
November 4 2019: Set to launch in early 2020, Bitbuy has teamed up with Cred to offer their clients up to 10% annual interest on their holdings.
May 9, 2019: Bitbuy relaunches and rebrands with a many new features, an educational portal - and reduced fees. Much of this has been taken from surveys of thousands of customers. Says Jordan Anderson, VP of Marketing and Sales, "We used to be primarily a buy side platform and now we're focusing on facilitating both buy and sell orders. By reducing our fees, we believe users will be enticed to buy and sell in larger quantities."
May 2, 2019: Bitbuy has released its new Pro Trade platform that was developed in house. "By building this product in house, we maintain complete control over every facet of the business, giving our customers confidence in the transparency of our operations... we are excited to start the next chapter of Bitbuy with our 'Pro Trade' platform," said Adam Goldman, President at Bitbuy. Bitbuy officially released their OTC (over-the-counter) desk after doing a soft launch back in late 2018.
Are You Ready?
If you're ready to take the bull by the horns, be sure to take advantage of the Bitbuy Referral Code Bonus offer while it lasts!
You can click below to use our referral code or just copy it: 4UTKLRUZI