Coinberry Referral Code for 2020
and Account Opening review
Do other Coinberry codes actually work? Who knows.
Ours does. Period.
You can use our VERIFIED COINBERRY REFERRAL CODE for a $20 bonus when opening a new account - not bad for a few seconds effort!
3 Steps to Activate the Coinberry Referral Code:
On the Coinberry sign up page, paste in our Referral Code:

4d321ec1a65

or simply use this link to open the Coinberry signup page and when you press Sign Up there, the code is entered for you (see our guide below for screenshots).
Complete the account registration process (if you have problems, remember to check our guide below), buy at least $50 of digital currency, and get your bonus!
This last step is for us - to help us spread the word of this offer please share our page on social media! You can use our handy share buttons on the left of the screen.
* Securing your own referral code offer with our 2020 Coinberry referral code only takes 5 minutes - the rest can be done later. Get one now while still offered! *
This page was originally to help my fellow Canadian Digital Nomads travelling abroad, but word-of-mouth seems to have expanded it's reach. That's OK, it's open to all and I'm sure the folks at Coinberry appreciate the business!
account opening guide
Step 1 of Coinberry sign up: Registration
In this first step you specify the email address to be connected to your account, choose a password, and verify that our Referral Code: 4d321ec1a65 is entered correctly into the Referral Code box. You MUST enter the code correctly, so if you want to be sure simply use the button below and you'll see that it automatically enters the code for you in a new browser tab. You'll know you've got it right when it shows at the top of the page that "Your first $20 is on us!" as shown in the screen capture below.
Once this is all done, check the "I'm not a robot" box to prove that you're a real person! Then click Sign Up to move on.
Step 2 of Coinberry sign up: Verification
In this next step you will verify that "you are who you say you are." They'll ask you to check your inbox for a message from them to verify your email address specified in the previous step.
You can see what the message looks like below. Go have a look for it in your inbox - or, heaven forbid, your Spam - and press the 'Confirm my email address' button.
Step 3 of Coinberry sign up: Mobile Phone Authentication
It shows you that your email has been confirmed. In this next step you'll enter your mobile phone number so that they can send you a text message containing another verification code. Check your mobile phone for the text, which should come quite quickly. Once you get the text enter the code into the verification code box.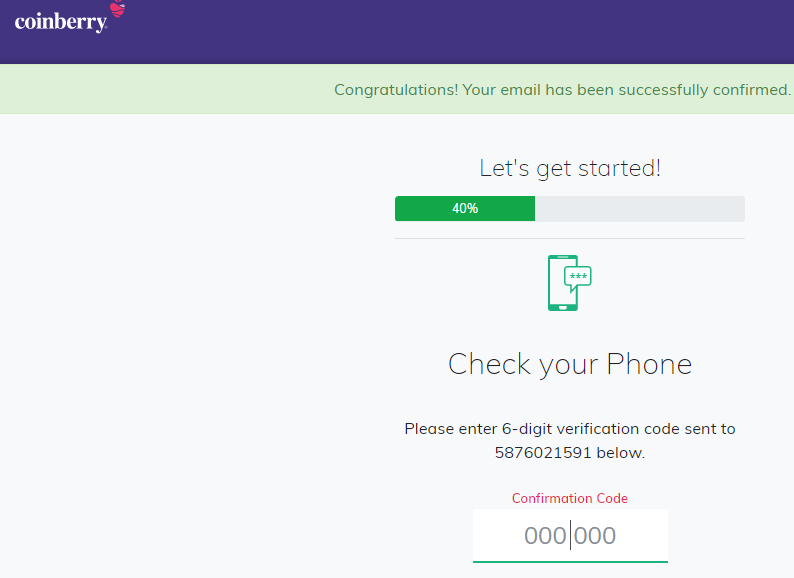 Step 4 of Coinberry sign up: All About You
In this final step you confirm your occupation, expected trading volume, name, birthdate, and address.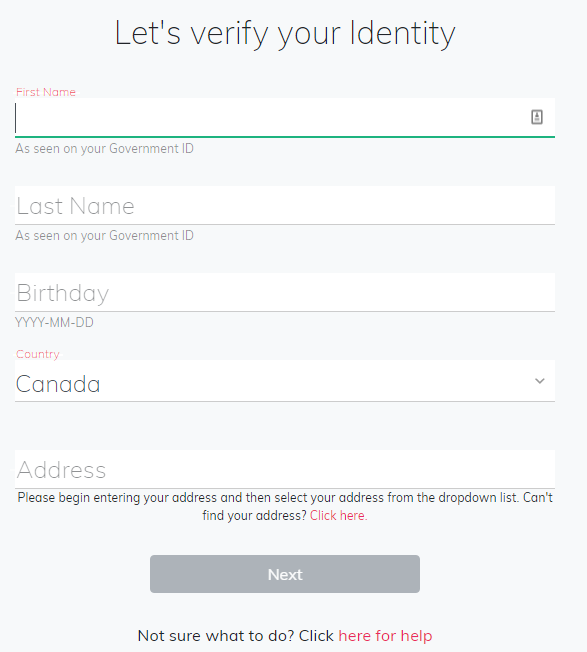 If all goes well, you will now see that you are finished creating your account! Congratulations! You can move on to funding your account with at least $50 or take a break and do that another time. Remember you won't get your bonus until you do that and BUY $50 of digital currency.
Are You Ready?
OK, so if you've just been reading along and have not yet begun creating your account, now is the time!
You can click below to use our referral code or just copy it: 4d321ec1a65
Use the button above or click here to go to the Coinberry website have the referral code automatically entered
* Securing your referral code offer with our 2020 Coinberry referral code only takes 5 minutes - the rest can be done later. Get one now while still available! *
---
Coinberry News
July 15, 2019: Coinberry is in negotiations with the City of Richmond Hill to allow payment of property taxes in Bitcoin. "We are very happy to be entering into a partnership with our second Canadian Municipality," said Andrei Poliakov, Coinberry CEO and Co-Founder. "Leaders of government and enterprise organizations are realizing that, with the right partners, they can innovate with blockchain and digital currencies. We're pleased to be working on additional innovative solutions with leading enterprise and municipal partners, and have a number of very exciting initiatives we will be announcing over the next several months."
March 29, 2019: Coinberry has partnered with the town of Innisfil in Ontario to make it the first Canadian municipality to accept cryptocurrency. They will begin a one-year pilot project allowing residents to pay property taxes in cryptocurrency using Coinberry's services - their new Coinberry Pay solution - beginning in April. "We are proud to be first in taking this bold step by offering this new, exciting payment option to our residents," said Innisfil Mayor, Lynn Dollin. "There's no doubt that cryptocurrency is growing in usage and popularity. By getting into this now, we are making sure our municipality is ahead of the game, and signaling to the world that we truly are a future-ready and innovative community." The payments will be instantly converted into Canadian funds, so it appears that the town will not be holding the crytocurrency long term. "Leaders from all levels of government who are first to recognize the benefits of the 'new money economy' will be the first to reap the rewards," said Andrei Poliakov, Coinberry's CEO and co-founder. "We are extremely pleased [with] achieving a milestone in the history of adoption of cryptocurrency in Canada."
August 15, 2018: Coinberry partners with Swiss company, BRD Partners. The relationship will allow BRD's Canadian clients to use etransfers to fund cryptocurrency purchases. Canadians are BRD's third largest market measured by unique transactions and second by total transactions.
Are You Ready?
If you're ready to take the bull by the horns, be sure to take advantage of the Coinberry Referral Code Bonus offer while it lasts!
You can click below to use our referral code or just copy it: 4d321ec1a65